"How do you manage to play music on this broken harp?
– I can do it because the music I play represents the soul of a country: it's the Ukrainian anthem.
– I don't understand…
– Like this harp, even if everything around you is destroyed, looted and ravaged, never forget that the soul of a country and those of its heroes are immortal… Keep hope Choco, keep faith in the future. "
_
Душа страны
"- Как играть музыку на этой сломанной арфе?
– Я делаю это потому, что музыка, которую я играю, представляет собой душу страны: это гимн.
– Я не понимаю…
Подобно этой арфе, даже если все вокруг разрушено, разграблено и опустошено, никогда не забывайте, что душа страны и ее герои бессмертны… Сохраняйте надежду, Чоко, сохраняйте веру в будущее."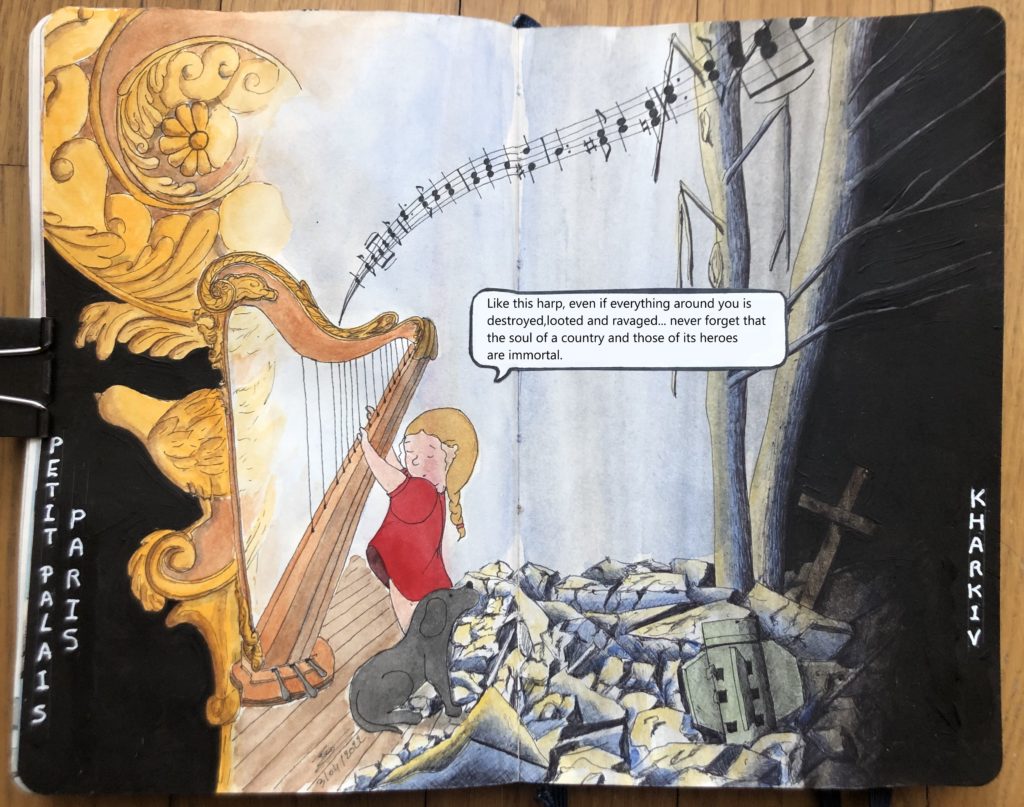 PS: Why Kharkiv and not another Ukrainian city? Because the drawing is based on a photo. The one of Alina who left her home when a shell fell in front of her house. She now lives in Paris and tries to keep hope in the future.
_
Почему Харьков, а не другой украинский город? Потому что рисунок основан на фотографии. Алина покинула свой дом, когда перед ее домом упал снаряд. Сейчас она живет в Париже и пытается сохранить надежду на будущее.